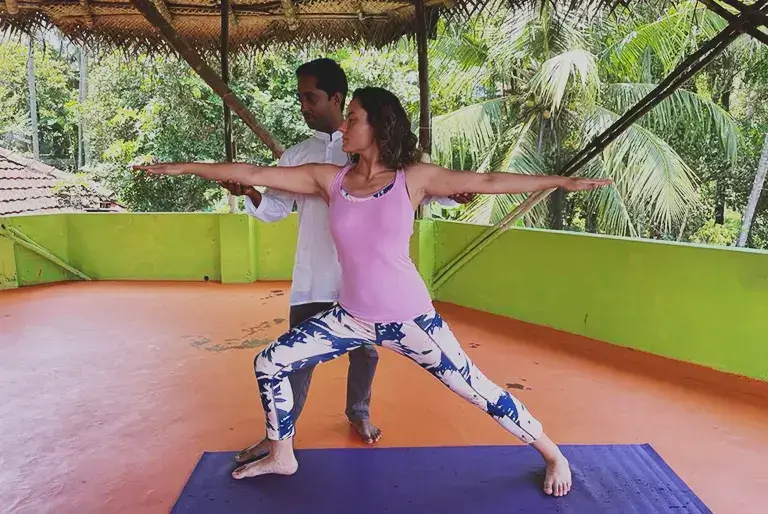 Yoga
Yoga with Shajahan (Yoga teacher), an Experienced and passionate Yoga instructor with over 16 years of teaching experience and advanced training in Hatha Yoga and Ashtanga vinyasa Approaches. Adept in developing effective lesson plans that seek to help and benefit every student. Committed to providing my clients with in-depth instruction and counseling while inspiring them to reach true inner peace and their healthiest selves.
Yoga styles
If you're looking for a yoga retreat in Varkala with a difference, Varkala villa is the place to be. Located in the heart of Kerala in southern India, this beautiful villa offers an array of different styles and levels of yoga classes to suit your individual needs.
From traditional Hatha classes to more dynamic Vinyasa or Asthanga sessions, there is something here for everyone. In this blog post, we will explore the different styles of yoga taught at Varkala Villa and how they can help enhance your physical and mental well-being.
Whether you are an experienced yogi or a complete beginner, this post will provide you with ample guidance on which style is right for you and why.
So, let's dive right in!
Hatha Yoga
Hatha Yoga originated in India as a system of physical and mental disciplines. It is the most popular form of yoga in the West and is often practiced in villas as a form of relaxation and stress relief.
Hatha Yoga is based on the principle of balancing opposites, and its goal is to bring about a state of perfect physical and mental health.
The practice involves the use of breath control, purification practices, diet, mudras (hand gestures), bandhas (body locks), and asanas (yoga postures) to align the body and mind.
Yoga Timing
Morning
6.30 to 7.15
7.30 to 9 oclock
Evening
4 to 5.30
5.30 to 7 pm
Charges,500 inr for 1 person
Per session (1 hour 15 minutes)