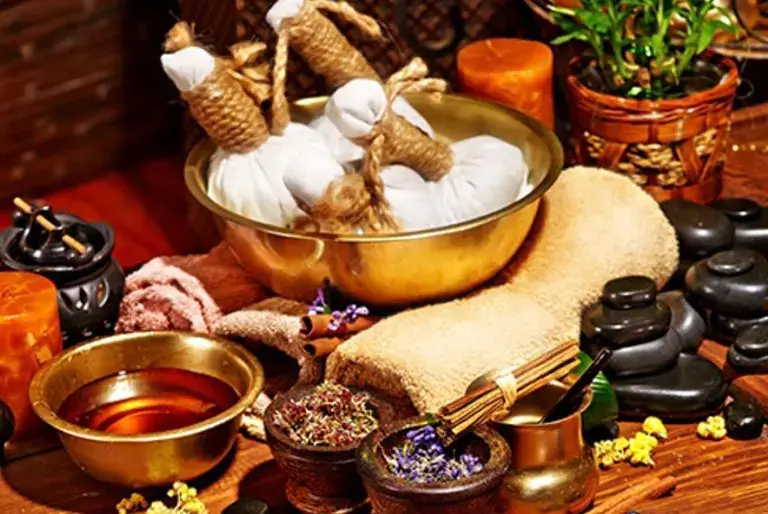 Ayurveda Treatments
Welcome to Varkala Villa and our selection of Ayurvedha treatments. Experience the healing power of Ayurveda with Varkala Villa! Our treatments are designed to provide the best, most effective ayurvedic care available in Varkala. Our experienced doctors and massage therapists provide holistic therapies aimed at reducing stress, improving overall wellness, and providing relief from pain and discomfort. Choose from Panchakarma treatments, detoxification, rejuvenation, paralysis, weight loss, and slimming, or anti-aging packages that are entirely tailored to individual needs. With our cutting-edge methods and dedicated practitioners, we strive to bring the holistic healing powers of Ayurveda to our clients. At Varkala Villa we understand that each client is special with their own needs and concerns; this is why all of our ayurvedic treatments are carried out at our center by skilled professionals. Join us today for a journey toward wellness!
Detoxification
In the detoxification process, the body's toxins are removed. The body can be exposed to toxins through the food we eat, the air we breathe, and the water we drink. Toxins can also be found in household products and cosmetics.
Detoxification is important because it helps to remove these toxins from the body, which can improve our overall health and well-being. There are many different ways to detoxify the body, including juice cleanses, fasting, and sauna therapy.
If you're looking to detoxify your body, Varkala villa is the perfect place to do it. Our serene setting and experienced staff will make sure that you have everything you need to reach your goals. Contact us today to learn more about our detoxification services!
Rejuvenation
Varkala villa is the perfect place to relax and rejuvenate. With its idyllic setting, stunning views, and peaceful atmosphere, it's no wonder that this villa is a popular choice for those looking to escape the hustle and bustle of everyday life.
Here at Varkala villa, we offer a range of facilities and services to help you unwind and recharge. Our on-site spa offers a variety of treatments to help you relax, while our outdoor pool is the perfect spot to cool off on a hot day.
We also have a fitness center if you're looking to stay active during your stay.
No matter how you choose to spend your time at Varkala villa, we know that you'll leave feeling refreshed and rejuvenated.
Paralysis
However, stroke is by far the most prevalent cause of paralysis. Other causes include spinal cord injury, multiple sclerosis, cerebral palsy, and ALS (Lou Gehrig's disease).
Paralysis can be complete or partial. Complete paralysis means that the person cannot move any part of the affected body. Partial paralysis means that the person can still move some parts of the affected body.
Paralysis can be temporary or permanent. Temporary paralysis can occur after a stroke or other medical condition. It typically persists for several days or months before disappearing. Permanent paralysis is when the paralysis does not go away and is permanent.
Most people with paralysis need help with activities of daily living such as dressing, bathing, and eating. They may also need help with transportation and communication. Many organizations provide services to people with paralysis and their families.
Weight loss
If you are looking to lose weight, Varkala villa is the perfect place for you. With its stunning natural surroundings and its tranquil atmosphere, Varkala villa is the ideal place to relax and unwind while you shed those unwanted pounds.
The staff at Varkala villa are experts in weight loss and will help you to develop a personalized plan that suits your individual needs.
They will also provide you with all the support and motivation you need to stay on track and reach your goals.
There is no better place than Varkala villa to start your journey to a healthier, happier self.
Slimming Programs
There are many slimming programs available, and it can be tough to decide which is right for you. If you're looking to lose weight and get in shape, Varkala Villa's slimming program may be a good option for you.
The program includes a healthy diet plan and exercise regime that will help you shed those unwanted kilos. You'll also receive support and motivation from our team of experts throughout your journey.
So, if you're ready to start your weight loss journey, contact us today to sign up for our slimming program. We'll help you achieve your goals and get the body you've always wanted!
anti-aging
Our bodies undergo a variety of transformations as we become older. Some of these changes are positive, such as becoming wiser and more experienced. However, other changes can be negative, such as the loss of muscle mass and the formation of wrinkles.
There are many ways to combat the negative effects of aging, such as through diet, exercise, and skincare. One popular method is anti-aging treatment, which can help to reduce the appearance of wrinkles and improve skin elasticity.
If you're interested in trying out anti-aging treatments, Varkala Villa is the perfect place to do so. We offer a variety of treatments, including facials, massages, and wraps. We also have a team of expert aestheticians who can customize a treatment plan specifically for you.
To learn more about our anti-aging offerings, or to book an appointment, contact us today!
Panchakarma Treatments
Panchakarma treatments are an important part of Ayurvedic medicine and can be very beneficial for your health. There are five main types of panchakarma treatments:
1. Abhyanga:

This is a type of massage using warm oil, which is said to help detoxify the body and improve circulation.

2. Basti:

This involves the use of medicated oils or liquids, which are said to help cleanse the colon and relieve constipation.

3. Nasya:

This is a treatment in which medicated oil or ghee is instilled into the nostrils, said to help clear sinuses and headaches.

4. Pinda Sweda:

This is a therapy in which boluses of medicated rice are heated and applied to the body, said to help relieve pain and stiffness.

5. Shirodhara:

This therapy involves pouring medicated oil or milk over the forehead, said to help reduce stress and promote sleep.