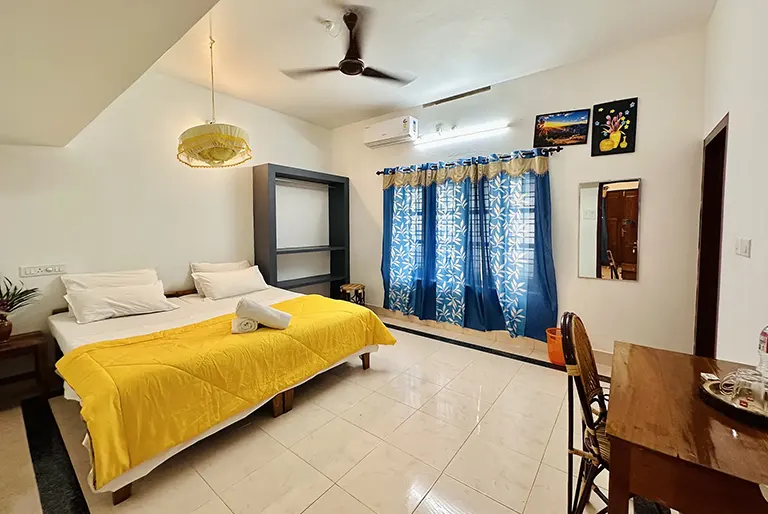 Rooms in Varkala villa
Have you ever fantasized about staying in a luxurious villa? You can make your dream come true by booking a stay at Varkala Villa.
Located in the tranquil village of Varkala, this villa boasts stunning views and offers luxurious stays. In this blog post, we will take an inside look at the different rooms available at Varkala Villa. From beach-facing rooms to honeymoon suites and more, we'll show you why this villa is worth booking for your next getaway.
Read on to learn more about the various amenities and activities available at Varkala Villa.
Our rooms are all about privacy and peace, and they seamlessly blend comfort and functionality. Every villa has a comfortable bedroom with new modern furniture, a bathroom, sitting room. 24-hour room service, television, and other thoughtful amenities complete the truly worry-free and calming ambiance. Our rooms are architecturally designed and the interior is adorned to reinforce the comforts of keeping, thereby instilling freshness.
International standards of the house per person square measure maintained, at a similar time, creating different types of rooms tailor-created to suit the well-lived life vogue.
Modern Furniture
Nowadays, people are looking for more modern and stylish furniture to match their contemporary lifestyle. However, they still want furniture that is comfortable and functional. At our Varkala villa, we have a wide range of modern furniture that will suit any taste.
From sleek and minimalistic pieces to more colorful and unique designs, we have something for everyone.
Our modern furniture is not only stylish but also very practical. We have a wide range of storage solutions to keep your belongings organized and out of sight. Our beds are comfortable and perfect for relaxing after a long day. We also have a great selection of tables, chairs, and sofas that will suit any space.
If you are looking for modern furniture that is both stylish and practical, then our Varkala villa is the perfect place for you.
Come and take a look at our wide range of products today!
Sitting room
The sitting room is a lovely, airy space with plenty of natural light. It's furnished with comfortable sofas and chairs and has a TV and DVD player.
There's also a selection of books, magazines, and games.
24-hour room service
Our 24-hour room service means that you can enjoy the privacy of your villa at any time of day or night. Our team will be on hand to take your order and deliver it directly to your room, so you can relax and enjoy your stay.
Bathroom
When you enter the villa, the first room on your right is the bathroom. It's a typical Indian-style bathroom with a toilet and shower in one room. The shower is a rainfall showerhead and there is also a hand-held showerhead. There is a sink and mirror in the room as well. The toilet is a Western-style toilet.